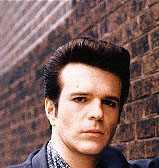 Anthony Denison (Ray Luca)
A cold-blooded killer and opportunist, in only about two years he moves up from being in charge of Chicago crews robbing homes and stores to being a Las Vegas casino owner and then an international drug lord. Survives an atomic-bomb blast. Very intelligent with good business, he looks down on the "dumb mustaches" from old-time street crime like Phil Bartoli. In the mob tradition he sleeps around but seems fairly happily married with children.
Loves old mob boss Manny Weisbord like a father.His only true friends who stick by him in time of need is Pauli Taglia. He ray's right hand man and friend. He takes anything and everything from people who don't deserve that. He will sell you out in a minute. Betrays associates, sometimes killing them if he's told to or they get in his way.

John Santucci (Pauli Taglia)
Clownish and outwardly not very bright, like a non-threatening-looking version of Joe Pesci's characters but almost as dangerous, he's Luca's sidekick and seemingly his only real friend besides Weisbord. Rescuing him from a gunfight on a Vegas street with Torello (in which both shoot each other), he hides himself and Luca out in what turns out to be an atomic-bomb test target. Amazingly they escape the center of the blast and live. He's had at least two girlfriends, both of whom he seems to really care about. Luca rapes one of them.

Andrew Dice Clay (Max Goldman)
A mobster coming into his own, he had been working with Phil Bartoli and Manny Weisbord. He was second in command under them. He wasn't the smartest guy in the organization but he had good ideas from time to time. Max Goldman was a married man somewhat happy; he had a nice home.He and his wife had no kids. He loves what he does for the mob. He smokes and drinks has good times with the boys.

Jon Polito (Phil Bartoli)
He's an old-fashioned "mustache" mobster in Chicago, overseeing an illegal casino and also doing some jewel heists and store robberies. Lives in an ultra-modern 1950s house. Likes to bet on the horses. Bosses Luca around, then when he crosses Weisbord, Luca and Kordo about the proposed move to Las Vegas and away from street crime, Luca pretends to have a friendly chat with him at his house and then shoots him, killing him as he's crawling on the floor.
Jay O. Sanders (Steve Kordo)
A son of Kansas City's Jewish mob, Kordo is usually non-violent but is secretly perverted, attacking women. He is the business brain behind the Outfit, proposing a shift in operations from Chicago to Las Vegas, into legal gambling, saying it could be a completely legitimate business by 1983. But all that ends when Manny Weisbord has a heart attack and Torello turns the Outfit men on each other. Goldman talks Kordo into trying to assassinate Luca, then when Goldman finds out Weisbord is alive (from Torello) he pushes Kordo out of the way as soon as he pulls out a gun... and shoves Kordo through a high-rise window to his death.

Joseph Wiseman (Manny Weisbord)
An old-school mobster with a keen business sense, Weisbord has a Yiddish accent. He was probably born in Russia and came to America around the turn of the century. His dream was to take organized crime out of the streets and make it "an American business." Ray Luca loves him like a father and even got him (the first-ever, illegal) heart transplant. He's probably based on real mobster Meyer Lansky. Like "The Godfather" Weisbord doesn't want to sell drugs. "They're for dirty people."