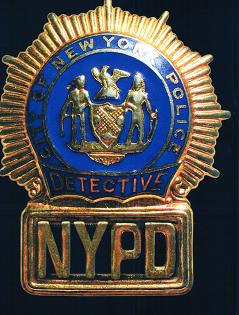 CharactersOld&New-Actors

James McDaniel (Lieutenant Arthur Fancy)
Admired and respected by all the detectives in his squad, Lieutenant Arthur Fancy rose through the ranks as a natural-born leader. Though at first he clashed with Andy Sipowicz, the head-strong detective ended up being one of Fancy's biggest supporters. Ambitious and politically astute, Fancy's promotion to Captain came as no surprise to anyone, but his reassignment to another precinct left the 15th reeling. Always tough but fair, Fancy returned the loyalty and admiration he received from his men. Even in his last official act -- calling in a favor to replace the shrewish by-the-book hardnose assigned to take over the squad -- he clearly went above and beyond in the best interest of his detectives.
Like many of his co-stars, James McDaniel worked with producers Steven Bochco and David Milch prior to his being tapped for NYPD Blue. A veteran of stage and screen, McDaniel was cast in Bochco's short-lived musical dramedy, Cop Rock before winning the role of Lt. Arthur Fancy. McDaniel got his start on the stage, appearing in the off-Broadway productions of A Soldier's Play and Balm in Gilead. Later he starred on Broadway in Six Degrees of Separation, originating the role that Will Smith later played in the film version. McDaniel's film credits include the recent release, Sunshine State and Malcolm X. While on NYPD Blue, McDaniel also took a turn behind the camera directing several episodes.


Dennis Franiz:(Detective Andy Sipowicz)
In his years as a New York homicide detective, Andy Sipowicz has evolved both personally and professionally. A Vietnam vet with racial hang-ups and a drinking problem, the hard-boiled detective has overcome many issues in order to get along with his superiors and fellow officers. Unfortunately, tragedy seems to follow Sipowicz, but the deaths of his son Andy, Jr., his second wife, Sylvia, and his partner, Bobby Simone, have mellowed his demeanor and made him stronger. The one bright spot in Sipowicz's otherwise difficult life is his young son, Theo.
When casting the pilot for NYPD Blue, producers Steven Bochco and David Milch already had actor Dennis Franz in mind for the starring role of Detective Andy Sipowicz. Bochco and Milch worked with Franz on their highly acclaimed series, Hill Street Blues where the down-to-earth actor won attention for playing not one but two different roles -- first, Sal Benedetto and later, Detective Norman Buntz. Born Dennis Schlachta (he took his father's first name as his stage name), Franz seemed destined to play police officers throughout his career from his first professional stage role in the Chicago production of Cops. Now entering his ninth season with NYPD Blue, Franz has won four Emmy Awards for Outstanding Lead Actor in a Drama Series and two Screen Actors Guild Awards (SAG) for his performance as one of television's most intriguing and realistic cops.

Sharon Lawerence(Ada Sylvia Costas)
An elegant, beautiful assistant District Attorney and a balding, overweight, slovenly cop getting married? It wasn't an obvious match, to be sure, but Sylvia saw the decent, caring human being underneath Andy Sipowicz's gruff exterior and fell in love with him. She was very supportive of his attempts to stay sober, which probably has something to do with the fact that half her family members appear to be alcoholics. She was very confident on the job, and was known to wield an acid tongue when cops' procedural errors blow her cases. Sylvia was raped back in law school, which made her (and Andy, once he found out) especially sensitive about rape cases. She took some time off from work to care for her newborn son Theo, but had returned to the job when she was killed in a courthouse shooting incident.


David Caruso (Detective John Kelly)
John's father, John Kelly Sr., was a heavily decorated detective back in the days when the Irish still ran the department, but he was killed in the line of duty when John Jr. was only 11. Kelly spent much of the rest of his life trying to meet the approval of his late father, joining the force and holding himself to an almost impossibly high standard. Unfortunately, while John's tightly-wound nature made him a great detective, it also distanced himself from the people he loved, including his ex-wife Laura, who divorced him because he didn't give her enough space. Shortly after the divorce, John got involved with Officer Janice Licalsi, but his efforts to clean up after a murder she committed eventually led to him getting drummed off the force. When last mentioned, John was making a living as a professional bodyguard and security expert.


Sherry Stringfield (Laura Michaels Kelly)
The match between Laura, a high-powered yuppie attorney, and John Kelly, a blue-collar cop, didn't last very long once Laura realized what an incredible control freak John could be. She bounced around several jobs after her divorce, eventually settling in with the Manhattan DA's office. She worked as a riding DA in the 15th Precinct for a while before transferring out, probably to put some distance between herself and John.


Nicholas Turturro(Detective James Martinez)
Originally assigned to the detective's squad as a temporary fill-in after Sipowicz was shot two years ago, Martinez demonstrated great enthusiasm for the job and willingness to learn, and quickly earned his detective's gold shield. His tenure on the job hasn't always been fun - he witnessed the OD death of his junkie brother, and watched his idol John Kelly get driven off the force. James is neither the brightest nor the most charismatic detective in the 15th squad, but he makes up for his occasional lack of savvy with a lot of heart and hard work. He recently transferred out of the squad after receiving a promotion to sergeant.


Gordon Clapp (Detective Greg Medavoy)
Medavoy is a walking bundle of neuroses disguised as a police detective. Cursed with a sometimes uncontrollable stammer and an abundance of allergies, Greg used to be the butt of a lot of jokes among the squad. However, he's a pretty good investigator and good researcher who has managed to earn the respect of his coworkers despite all his personal problems. He left his shrewish wife Marie to have an affair with Donna Abandando, but when she broke things off for good (due mostly to Greg's immaturity), Greg tried going back to his loveless marriage for the sake of his daughters. That didn't work; neither did a pursuit of attractive co-worker Abby Sullivan, who turned out to be a lesbian. Greg wound up fathering Abby's baby by artificial insemination, however, but becoming a father a third time hasn't improved his disposition much. Working with the dynamic and friendly Baldwin Jones, on the other hand, has.


Gail O'Grady(Donna Ababdando)
The first thing you needed to know about the lovely Miss Abandando is that she holds a special place in her heart for the NY Rangers, which means she loves lost causes (which the Rangers were until they finall won the Stanley Cup in 1994 after a 50-year curse). That also explains why she agreed to take a relatively thankless job as the receptionist (or, in NYPD parlance, "PAA") for the 15th detective's squad, and why she fell for nebbishy Greg Medavoy. Their affair was complicated by his marriage, her trampy sister Dana, and an old flame of Donna's who used to play for the Rangers. Eventually, the stress of it all proved too much, and she broke things off with Greg. A year or so later, she received a job offer from Apple Computers that was too good to pass up, and the Queens gal moved out to Silicon Valley.


Amy Brennemen(Officer Janis Licalsi)
Licalsi was a uniformed cop who had barely been at the 15th Precinct for a week before she was approached by Mafia kingpin Angelo Marino, who ordered her to murder John Kelly - or else he would turn in Licalsi's policeman father, who had been on Marino's payroll for years. Janice reluctantly agreed, but as she got close to John, she fell in love with him, and instead of killing him, she killed Marino and his chauffeur. The guilt of her crime ate away at her until she finally confessed to it months later. Kelly hired her a slick mob lawyer, and Janice got off with only a 2-year sentence for manslaughter. Since she was eligible for parole in six months, we can assume that she's already out, but she hasn't shown up at the One-Five since.


Jimmy Smitts (Detective Bobby Simone)
Brought in to replace Det. John Kelly (played by David Caruso), Detective Bobby Simone's easy-going nature and tragic past made him the perfect partner for the rough-around-the-edges Sipowicz. Simone's assignment to the 15th precinct is his first since he took time off from the street-beat to grieve the loss of his wife, who died of breast cancer. The unlikely pairing of Sipowicz and Simone yielded a highly effective duo and blossomed into an enduring friendship. Simone also found solace -- and a soulmate -- in fellow detective Diane Russell, whom he later married. Simone's death left the precinct reeling and the repercussions of his untimely departure continue to affect those who loved him.
The first time producer Steven Bochco approached Jimmy Smits about a starring role in his new detective series, Smits turned him down. It was only later when David Caruso left the show that Smits was approached again and accepted the role of Detective Bobby Simone. No stranger to the fickle world of television, Smits first TV role was a short-lived performance as Don Johnson's Miami Vice partner who was killed off in the first fifteen minutes of the series. It was not until 1986, that he was propelled into stardom with his Emmy-winning role of Victor Sifuentes in the legal drama L.A. Law. For his portrayal of Bobby Simone on NYPD Blue Smits received five Emmy nominations.


Kim Delaney (Detective Diane Russell)
As tough as she is beautiful, Detective Diane Russell was transferred to the 15th squad after spending years as an undercover cop. Russell's abusive father -- who was later shot and killed by her mother -- no doubt contributed to the detective's alcoholism and her cynical outlook on life. But sparks flew when she met Bobby Simone, especially when she was assigned to his precinct. In the end the two lost souls found in each other the solid footing they lacked. Russell kicked her drinking habit and married Simone only to lose him to a fatal heart infection. Unwilling to take time off to grieve, Russell threw herself back into work and into the arms of Bobby's replacement, Detective Danny Sorenson. Unfortunately, it was a case of too much too soon and Russell soon broke things off with Sorenson (much to his dismay) and has recently taken a leave of absence from the department.
Prior to setting her sights on acting, Kim Delaney graced the covers of magazines such as Seventeen and Glamour. But fans of the popular daytime drama All My Children know Delaney from her first acting gig as the teenage heroine, Jenny Gardner. After trying her turn on the big screen, Delaney returned to television playing roles on L.A. Law and Tour of Duty. In 1995, Delaney joined the cast of NYPD Blue, where found herself paired with former L.A. Law co-star Jimmy Smits in her Emmy-winning role as Detective Diane Russell. Delaney left NYPD Blue last season to star in Philly, a new legal drama, which premieres in September 2001 on ABC.


Charlotte Ross(Detective Connie McDowell)
After spending some time as a temp detective whom Borough Command would assign to different precincts as needed, McDowell has finally found a permanent home in the 15th squad. Connie has policework in her blood, since her late father was a cop in Saratoga Springs, NY. When she was 16, Connie got pregnant, and her parents forced her to give the baby, a girl, up for adoption. Recent attempts to contact her daughter Jennifer, now 15, turned out disastrously, but they did inspire her to get in on the Theo babysitting action, which in turn brought her closer emotionally to Andy. Despite the vast difference in their age and beauty, the two gave romance a go and recently married. Connie recently took in her sister Michelle's baby daughter after Michelle was beaten to death by her abusive husband Frank. Shortly after that, Connie was stunned to learn that she could still get pregnant, and she and Andy had a son, Matthew Nicholas Sipowicz. Connie left the job, at least temporarily, to look after her rapidly-growing family.


Rick Schroder (Detective Danny Sorenson)
Detective Danny Sorenson found that he had big shoes to fill when he was hired to replace Bobby Simone. But the young, ambitious detective quickly won over the squad -- even his curmudgeon partner Andy Sipowicz -- with his straight-forward approach and hard work. He also caught the eye of Diane Russell, Simone's newly bereaved widow, but their affair seemed destined to fail. Abandoned by his mother at a young age, Sorenson has his share of issues when it comes to women, and he ultimately wanted more than Russell could give. His involvement with a beautiful stripper may have lead to his mysterious disappearance at the end of last season.
Rick (formerly "Ricky") Schroder literally grew up in front of the camera. Born in 1970, Schroder made his first appearance in a TV commercial at the tender age of three months. By the time he was nine years old, he had won a Golden Globe Award for Best New Male Star of 1979 for his role as Jon Voight's son in Franco Zeffirelli's The Champ. His four year stint on the sitcom Silver Spoons made Schroder a young heart-throb, but it wasn't until his role in the TV mini-series Lonesome Dove that he began to receive serious attention from the critics. Though short-lived (his role as Danny Sorenson lasted only two seasons,) Schroder's appearance on NYPD Blue has certainly changed his "good-boy" image. As an actor he has come into his own.


Henry Simmons(Detective Baldwin Jones)
Jones, whose mother named him after the writer James Baldwin, transferred into the 15th squad from a bias crimes unit to replace the departed James Martinez. "D," as he likes to be called, get his amazing physique from a lot of exercise, including a daily run, and is still working out some racial issues as he gets to know (and like) his white colleagues. Despite the colossal difference in their size, appearance and demeanor, he and Medavoy have become fast friends and solid partners. Baldwin and ADA Valerie Haywood have had an off-again, on-again relationship, and currently Valerie is helping Baldwin raise troubled teenager Michael Woodruff, whom Baldwin took in after investigating the murder of Michael's mother by his father, Craig.

Mark-Paul Gosselaar(Detective John Clark Jr.)
A confident youngster who spent the last few years in Narcotics, Clark received the NYPD equivalent of a battlefield commission, earning his gold detective shield after heroic action during an undercover operation gone awry. When offered his choice of commands, he picked the 15th Precinct. That decision drove a wedge between John and his father, John Clark Sr., a by-the-book veteran who didn't want his son spending time in that "hellhole" -- or learning how to be a thug like Sipowicz, whom Sr. loathed from past experience. Despite some early screw-ups, John's on-the-job training has been surprisingly quick; he's now good enough in the interview room that the "Junior" nickname Andy slapped on him doesn't sound condescending, but affectionate. However, with that growth has come tragedy. John's dad committed suicide after an IAB scandal, and so did John's bipolar ex-girlfriend, Dr. Jennifer Devlin


Jacqueline Obradors(Detective Rita Ortiz)
The latest addition to the 15th squad comes, like Diane Russell before her, from Vice. Unlike Diane, Rita left Vice not because she wanted to, but because her husband, ADA Don Harrison, was too disturbed by the idea of his wife dressing up as a hooker and walking the streets undercover. Since joining the squad, she has mostly chosen to hang back and learn from new partner Connie and the other detectives. The new assignment was supposed to be a panacea in her troubled marriage with Don, but his paranoid fantasies that she was cheating on him turned out to be a cover for the fact that he was cheating on her -- an affair that led to Don being murdered by his mistress' angry husband. Rita didn't take long to get over the whole catastrophic end of her marriage; she's currently dating John Clark Jr.


Andrea Thompson(Detective Jill Kirkland)
For most of her tenure in the 15th squad, Jill served as the emotional rock to partner Diane Russell's tower of Jell-O, as well as the most competent and confident cop in the precinct not named Sipowicz, Simone or Sorsenson. But her irrational attachment to her ex-husband Don, who manipulated her by threatening to embarrass, and, eventually, kill their two sons Kyle and Frank, led Jill to throw her career away. She and her boys are currently on the run from Internal Affairs investigators.